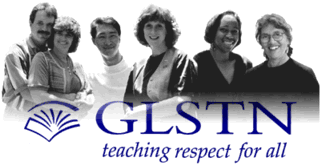 Parents, Teachers, Students and Concerned Citizens Creating
Schools Where Everyone is Valued and Respected
WHAT'S NEW AT GLSTN?
GENERAL INFORMATION



---

GLSTN (The Gay, Lesbian, and Straight Teachers Network) is the largest organization of parents, educators, students and other concerned citizens working to end homophobia in K-12 schools, and to ensure that all students are valued and respected, regardless of sexual orientation.

To fulfill its mission and raise awareness of these issues, GLSTN produces audio, visual and text-based educational materials, provides training, produces community programming and conferences, and organizes a growing national network of over 40 regional chapters.

Membership in GLSTN is open to anyone -- regardless of their occupation or sexual orientation -- who is committed to seeing that the current generation is the last to suffer from homophobia. More than 70% of our budget is funded by individual donations and we need your support to continue to make resources such as this available. GLSTN is a 501(c)(3) non-profit corporation and all donations are fully tax-deductible to the extent allowed by law.
---
GLSTN
122 West 26th Street, Suite 1100
New York, NY 10001 USA
Tel: (212) 727-0135
Email: glstn@glstn.org
Web: http://www.glstn.org/respect/

(c) 1994-1996 Gay, Lesbian & Straight Teachers Network (GLSTN)

You may copy and redistribute these materials for educational purposes, provided that you do not change any material. All notices must remain intact.

(last updated August 23, 1996)