HAPPY PRIDE!
June marks the 40th anniversary of the Stonewall Riots, which are considered to have sparked the modern day movement for LGBT equality.

With the distribution of our 1,100th program in April 2009, "This Way Out" began its 22nd year reporting about and reflecting on our diverse community's struggle for equality.

We've got some encouraging news we can all be proud of: "This Way Out" has received another generous grant from The Kicking Assets Fund of the Tides Foundation. While they've helped fund our program every year since 1995 – for which we are truly grateful – their grant provides less than a third of our annual bare-bones operating budget, so we continue to depend on your charitable donations to help keep us going.

There was also a nice story about "This Way Out" in a recent issue of "Diversity Rules," an LGBT publication distributed on the U.S. east coast, and online at www.diversity-rules.com.

Thanks also to singers/songwriters Christopher Dallman, Dudley Saunders, Marc Francoeur, artists-in-residence Tom Gramlich & Byron Pfeifer, duo Vertigo Road, writer/actor Vincent James Arcuri reprising excerpts from his one-man show "Becoming Butch," a special video presentation of Jon Gilbert Leavitt's "Pride At 40" - and especially to organizer and singer/songwriter/host Mark Islam - for a wonderful evening of music and performance at the Talking Stick Coffee Lounge in Venice, California on June 13th to benefit "This Way Out". A total of $355 in donations was raised from the appreciative audience during the evening.

We'll keep this "Update" short (and hopefully sweet). If you've heard "This Way Out" you know what we do, and how important our internationally distributed award-winning weekly public radio show is to listeners - both in and out of the closet – around the world. As a public radio program we also uniquely educate non-LGBT listeners about the issues in or affecting our community. If you've never listened you can click on the "Affiliate Stations" tab to find one of more than 175 local stations that carry our show, or tune in to free podcasts of "This Way Out" via the "Subscribe" button above.

We wish you a Happy Pride, and thank you for your continuing – and vital – financial support! Check out the "thank you" gift CDs described below, including the latest addition: a March 1978 conversation with then-newly-inaugurated San Francisco Supervisor Harvey Milk.

We'll happily acknowledge donations of at least $250 on the air if you so desire. Please know how much we genuinely appreciate each contribution, no matter the size. We need everyone's support – at whatever level you can afford – to keep this vital LGBT institutionn going.

Donate via one of the PayPal links here – tax-deductible in the U.S. – or postal-mail your donation to "This Way Out" at P.O. Box 388327, Los Angeles, CA 90038.

Thank you!


---

A CONVERSATION WITH HARVEY MILK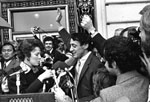 In March 1978 now - "This Way Out" Coordinating Producer Greg Gordon traveled to Northern California to interview newly elected San Francisco Supervisor Harvey Milk. Their conversation covered civil rights activism, politics, and some of the gay personalities of the day. The Oscar-winning movie has generated renewed interest in this historic figure. And, as you'll hear in this illuminating and highly-entertaining half-hour interview with the pioneering LGBT civil rights hero, much of what Harvey had to say still resonates today.



AUDIOFILE 2008 YEAR IN REVIEW
As always, lesbian, gay, bisexual and transgender artists provided the "soundtrack" for the ongoing struggle by sexual minorities for equality around the world with an exceptional variety of gender-and-genre-bending music in 2008. And as always, limiting the artists they featured during the year to just a few was no easy task, but CHRIS WILSON, JD DOYLE and CHRISTOPHER DAVID TRENTHAM share seven of their favorites during this 30-minute tunefest: excerpts from "Queer Blues," "Deja Vu Blues" and "I Ain't Ashamed" from Gaye Adegbalola's "Gaye Without Shame"; "Protest Song" and "Little Boy Blue" from Eric Himan's "Resonate"; "For Someone" and "Wide Awake" from Jake Walden's "Alive and Screaming"; the title cut and "Happy" from Catie Curtis' "Sweet Life"; "Like A Girl" and "Free" from Scott Free's "The Pink Album (A Pop Opera)"; "He Is" and the title cut from Sam Harris' "Free"; and "Get It Through Your Head" and "Meet Me at the Party" from Lori Michaels' "Living My Life Out Loud".

PRIDE ON SCREEN 2008
Our award-winning entertainment reporter STEVE PRIDE reviews his favorite LGBT moving images of the year – on screens both big and small, and wiith a cornucopia of clips and comments by their creators - in this special 30-minute show. Steve first looks at U.S. television (includes clips from network TV's "Brothers and Sisters," "As The World Turns," "Dirty Sexy Money," Showtime cable's "The Tudors," BBC America's "Skins," Logo cable's "Sordid Lives"; reality shows "Make Me A Supermodel," "Project Runway," "America's Next Top Model," "Transamerican Love Story"; and online, HereTV's "Paradise Falls," "3 Way" (3waytv.tv), and the franchise's first clearly gay couple on the independently produced "Star Trek: Phase II" (startreknewvoyages.com); Steve then reviews his picks for the Top Ten LGBT films released in 2008: "The World Unseen," "Breakfast with Scot," "Antarctica," "A Jihad for Love," "Ciao," "Were the World Mine," "Save Me," "Shelter," "Chris & Don," and "Milk".
Also still available:



PRIDE ON SCREEN 2005
From "Walk On Water," "Gay Sex in the 70s," and "Capote" to "Mysterious Skin," "Transamerica," and "Brokeback Mountain," Steve Pride offers clips and comments by many of the filmmakers themselves in his review of the most memorable moments on big and small screens in 2005, unquestionably a high-water mark for queer cinema.

STRANGER THAN STRAIGHT
The legendary American DJ known as "Dr. Demento" raised audio kitsch to an artform. As "Nurse Pimento", the late Southern California gay activist and radio producer David Fradkin added his own kind of spice to pursuing the peculiarities of popular culture in this early 1980s half-hour production, which features some offbeat queer words and music from Carroll "Archie Bunker" O'Connor, Groucho Marx, Perry Como, Laurel and Hardy, Judy Garland, Mickey Rooney, Carl Reiner and Mel Brooks, Tommy Smothers, Martin Mull, Bing Crosby, Danny Kaye, Noel Coward, the poignant self-aware words of Holocaust teen diarist Anne Frank, Bessie Smith singing, and her niece Ruby telling interviewer Chris Albertson about, their especially entertaining visit to a "Buffet Flat" -- and more!
And our special coverage of some of the historic events in the queer community is still available:

THE BIGGEST QUEER NEWS OF 2003
A keepsake collection of more than an hour of "This Way Out" reports, with the voices of many of the activists involved, covering the advent of legal same gender marriage in Canada, the historic U.S. Supreme Court ruling overturning state sodomy laws, the Massachusetts Supreme Judicial Court decision opening legal marriage to queer couples, and a P-FLAG mom's "on scene" account of and sound from the consecration of openly gay Episcopal Bishop Gene Robinson.

DIMINISHED CAPACITY


Alive with the sounds from the streets, this documentary, produced by "This Way Out" Coordinating Producer Greg Gordon, captures the enormous impact on the queer community of the November 1978 assassinations of openly gay San Francisco Supervisor Harvey Milk and gay-friendly Mayor George Moscone. The "diminished capacity" defense (since eliminated legislatively) made it possible for former Supervisor Dan White to receive a very lenient sentence for the dual murders, a decision that sent shockwaves through the Castro District and led to what became known as the "White Night Riot." This fast-paced hour tracks the entire story through and including White's eventual suicide, with comments by many leading lesbian and gay activists and journalists of the time, and riveting thematic music by the Tom Robinson Band.

THE NATIONAL MARCH ON WASHINGTON FOR LESBIAN & GAY RIGHTS RADIO DOCUMENTARY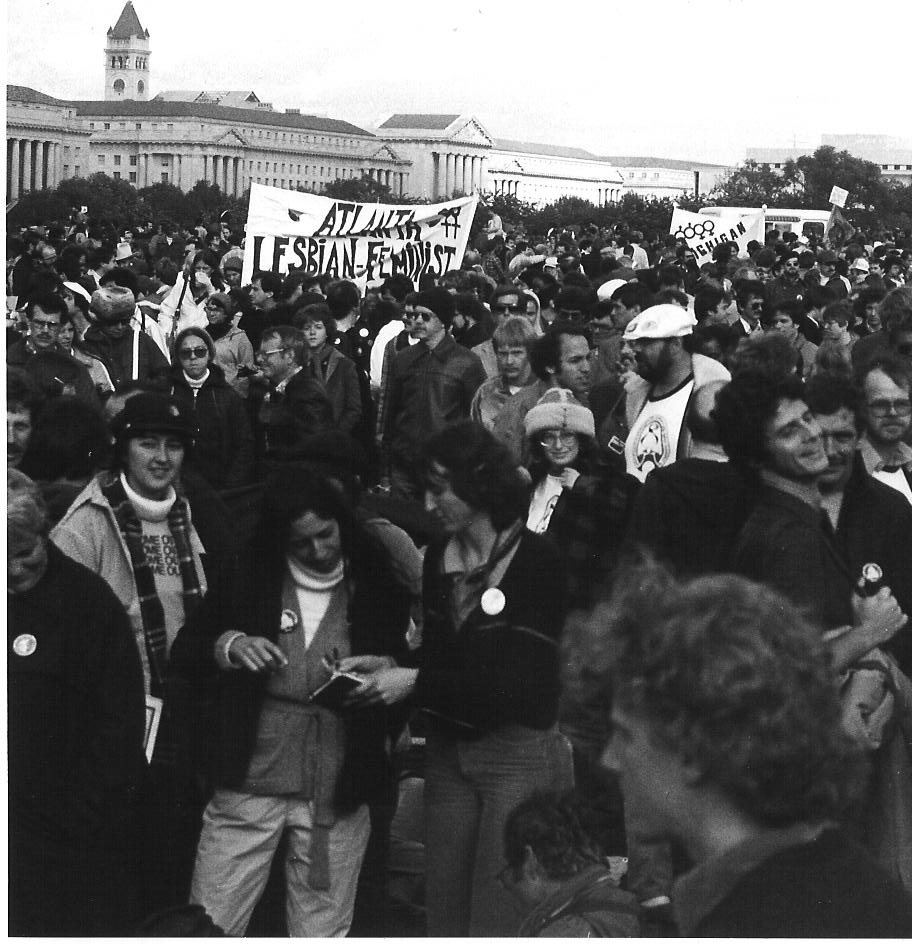 This "audio scrapbook" of the October 14, 1979 march and rally in the U.S. capital, produced by "This Way Out" Associate Producer Lucia Chappelle and Coordinating Producer Greg Gordon, illuminates the problems and the passion of the first demonstration of its kind. As rich with the music and culture of the period as it is with the politics, the hour traces the event from the initial planning conference and some activists' heartfelt and sometimes humorous cross-country trip to D.C. on a "Freedom Train" to the big day itself, and its coverage (or lack thereof) in the conventional media.
---
$25
Please select *one* of the following 5 choices:
A CONVERSATION WITH HARVEY MILK or
AUDIOFILE 2008 YEAR IN REVIEW or
PRIDE ON SCREEN 2008 or
PRIDE ON SCREEN 2005 or
STRANGER THAN STRAIGHT

$50
Please select *two* of the following 4 choices:
AUDIOFILE 2008 YEAR IN REVIEW
PRIDE ON SCREEN 2008
PRIDE ON SCREEN 2005
STRANGER THAN STRAIGHT

or select *one* of the following:
THE BIGGEST QUEER NEWS STORIES OF 2003 or
DIMINISHED CAPACITY or
THE 1979 MARCH ON WASHINGTON DOCUMENTARY

$100
All 4 "Queer Culture" CDs:
AUDIOFILE 2008 YEAR IN REVIEW and
PRIDE ON SCREEN 2008 and
PRIDE ON SCREEN 2005 and
STRANGER THAN STRAIGHT

$150 OR MORE
All *three* "Queer History" CDs:
THE BIGGEST QUEER NEWS STORIES OF 2003 and
DIMINISHED CAPACITY and
THE 1979 MARCH ON WASHINGTON DOCUMENTARY

$200 OR MORE
All *eight* of these Outstanding Queer Culture & History CDs:
A CONVERSATION WITH HARVEY MILK
AUDIOFILE 2008 YEAR IN REVIEW
PRIDE ON SCREEN 2008
PRIDE ON SCREEN 2005
STRANGER THAN STRAIGHT
THE BIGGEST QUEER NEWS STORIES OF 2003
DIMINISHED CAPACITY
THE 1979 MARCH ON WASHINGTON DOCUMENTARY

(All donor levels are in U.S. dollars.)
Facing The Voices
"This Way Out" Coordinating Producer Greg Gordon:





"This Way Out" Associate Producer Lucia Chappelle:





"Audiofile" Co-Producers JD Doyle & Chris Wilson:





"Audiofile" Co-Producer Christopher David Trentham:





"Pride On Screen" Reporter Steve Pride:





"NewsWrap" Co-anchor & Features Producer Jon Beaupré:





"NewsWrap" Co-Anchor Christopher Gaal:





"NewsWrap" Co-Anchor Tanya Kane-Parry:





"NewsWrap" Co-Anchor Sheri Lunn:





"NewsWrap" Co-Anchor Rick Watts:





"NewsWrap" Co-Anchor Leigh Moore:





"NewsWrap" Co-Anchor John Torres:





"NewsWrap" Co-Anchor Pam Marshall:





"This Way Out" Correspondent & Host of "QueerFM" on CiTR/Vancouver Heather Kitching:





Queer Lit Commentator Janet Mason:





News & Arts Correspondent Bryan Goebel:



What is "This Way Out"?
"This Way Out" is the award-winning internationally distributed weekly LGBT radio program, currently airing on over 175 local community radio stations around the world, and on Costa Rica-based short wave station Radio For Peace International. The half-hour "magazine"-style program is produced in Los Angeles and distributed to stations via two free-access Web sites, www.radio4all.net and www.indymedia.org, as well as through Pacifica Radio's Audioport and KU satellite, and via satellite in Australia on the Community Broadcasting Association of Australia's ComRadSat. The show is additionally postal-mailed on CD to stations that have no online access, and to individual subscribers. You can also hear "This Way Out" via direct satellite to home and cable outlets across Europe, and in the Middle East/Africa and Asia/Pacific regions, on the London-based World Radio Network, or "tune in" via our free podcasts -- click the button on the above righthand corner of this page.

Despite the limitations of a "tattered shoestring budget", "This Way Out" programming has been honored with multiple awards from the U.S. National Federation Of Community Broadcasters and the Radio and Television News Association, by the Gay and Lesbian Alliance Against Defamation (GLAAD), Parents, Families and Friends Of Lesbians and Gays (P-FLAG), the Los Angeles chapter of the National Lesbian and Gay Journalists Association (NLGJA), and internationally by Tupilak (the organization of lesbian and gay cultural workers in the Nordic area).

We've been on the air since APRIL 1988! Summaries of recent programs are available here, and if you like what you see, you can order a CD or cassette copy of any past show. You can also subscribe to get CDs or cassettes of all our future shows as they're produced, and for less than the cost of an average newspaper subscription (to cover our duplication and mailing expenses).

"This Way Out" leads off each week with NewsWrap, a summary of some of the major news events in or affecting sexual minority communities, compiled from a variety of media outlets around the world. If you see a local news story that you think deserves coverage, please copy/paste the text into the body of an email message, including the name of the media source and the date, and send it to us! Thanks!

In addition to NewsWrap, each edition of the program consists of several other segments, which can include:



Interviews With Authors & Performers



News Feature Stories



Music By Openly-Lesbigay Recording Artists



Humor



Poetry



Readings From Gay/Lesbian Literature



And More!

Plus, every segment of "This Way Out" is punctuated with a wide variety of music, especially self-produced recordings by openly lesbian/gay performers (which rarely receive commercial radio airplay). If you are a musician and have a tape or CD you'd like to submit to "This Way Out" for potential airplay, write to us at the address below!
Financial Realities
As an all-volunteer operation, "This Way Out" needs your support! Only with your help can we continue to provide quality programming of interest to the gay/lesbian community.


Write To Us!
We'd love to hear from you. Please make sure to let us know which station you hear us on, what day and time they play the show, and any other comments or questions you may have. We'd also love to hear about any articles written about the show in your local queer (or mainstream!) newspaper.

"This Way Out"
P.O. Box 38327
Los Angeles, CA 90038-0327
U.S.A.
Telephone: +1 818 986 4106
E-mail: TWOradio@aol.com

Last updated: August 19, 2009

Webmaster: Parker

All text copyright © 1996. Graphics are the property of their respective creator(s).