The Cast and Crew
Putting "This Way Out" on the air each week requires the effort of volunteers from around the world who contribute programming and story ideas. A small staff, consisting of four principal volunteers, coordinates their efforts.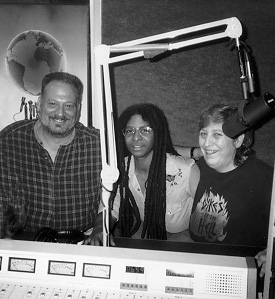 (Left to Right) Greg Gordon, Lucia Chappelle, and Cindy Friedman.
Greg Gordon, Coordinating Producer/Co-Host

Greg served as the executive producer for imru (as an unpaid volunteer), the locally-produced lesbigay program at KPFK-FM in Los Angeles from 1974 to 1984, and has been the driving force behind This Way Out since its inception in 1988. He holds a Bachelor's Degree in Radio-Television Production from U.C.L.A. and spent most of his professional life coordinating commercial operations at various Los Angeles radio and television stations, and as a broadcast coordinator for a major advertising agency, while handling his This Way Out duties as an unpaid volunteer. Sufficient funding was secured in May 1995 to enable Greg to leave his "day job" and work full time on This Way Out. He is the program's only full-time paid staffmember.
Email: TWOradio@aol.com

Lucia Chappelle, Associate Producer/Co-Host

Lucia began volunteering at KPFK in November 1973, served in the clergy of the Universal Fellowship of Metropolitan Community Churches (MCC) for 10 years, and from July 1987 through January 1995, was the Program Director at KPFK-Los Angeles. Lucia has two B.A.'s - one in Drama and the other in Theology - and did graduate work in Religion and the Arts with a major in Film. She most recently enhanced her internet skills working with The Grantsmanship Center's on-line information service for non-profit organizations.


Lucia and Greg have worked on several radio projects together over the past 24 years. Their joint credits include producing and anchoring live national broadcast coverage of the rallies following both the 1979 and 1987 marches On Washington For Lesbian And Gay Rights.
E-mail: Lucia@aol.com



Cindy Friedman, News Director/NewsWrap Co-Anchor

Cindy has a long history of volunteer radio production, including 12 years with imru at KPFK in Los Angeles. She's worked on This Way Out writing and co-anchoring NewsWrap since late 1990 (and since May 1995 has received a small part-time payment for doing so). For the last 20 years, Cindy has also been involved with Haven House (a battered women's shelter in Pasadena, California) and currently also works with adults with developmental disabilities at L.A. COAL. She holds a master's degree in Psychobiology.

Cindy, Lucia and Greg also produce NewsPlanet, the online weekday text news report on Planet Out.
E-mail: TWOclf@aol.com


Chase Schulte, NewsWrap Co-Anchor
Chase is a post-production supervisor and script doctor in the motion picture and television industries. A professional character voice designer and performer as well as dialogue supervisor and editor, he is a veteran of more than 80 radio and television commercials, and 35 animated television and motion picture character voice appearances.
---

Back to ["This Way Out" Home Page]

"This Way Out"
P.O. Box 38327
Los Angeles, CA 90038-0327
U.S.A.
Telephone: +1 818 986 4106
E-mail: TWOradio@aol.com


URL: http://www.qrd.org/qrd/www/media/radio/thiswayout/staff3.html

Last updated: 1 July 2002
All text copyright © 1996. Graphics are the property of their respective creator(s).