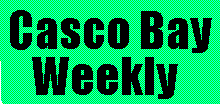 ---
&copy 1996 Casco Bay Weekly | Rick MacPherson | March 7, 1996
---
Please Note: Pat Peard states--

"The article in CBW is full of inaccuracies and I am composing a letter to the Editor to correct those inaccuracies which I hope will appear in next week's issue of CBW. I simply did not ever say MANY of the things that are attributed to me in [this] article. Hopefully, my letter will set the record straight."
Click Here to read Pat Peard's Response. -Paula 3/14/96
Maine won't disintegrate
The organization that led the fight to defeat Question 1 plans to keep on fighting. Its next battle may be over legalizing same-sex marriages.
Reports of the death of Maine Won't Discriminate have been greatly exaggerated. MWD, the broad-based coalition that defeated the anti-gay initiative on last November's ballot, still exists, and is in the process of transforming itself into an organization prepared to spearhead future efforts to expand civil rights, including legalizing gay marriages in Maine.

Within a week after last November's defeat of Question 1, the Cumberland County chapter of MWD closed up shop on Free Street. The phone number was disconnected with no forwarding information. Other than a mailing address and the enduring bumper stickers, MWD seemingly disappeared.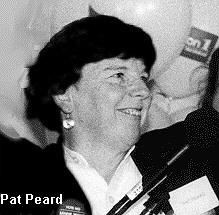 "Quite frankly, we have tried to keep a relatively low profile since the election," said Pat Peard, chair of MWD's executive board. "We were victorious, but in the end we realized we had become a [500-pound] gorilla. It was time to get out of the way and take our direction again from our grassroots."
At a Feb. 10 meeting of MWD's local chapters in Augusta, participants agreed to restructure the organization. MWD itself would become a political action committee. The local groups, of which the most active are in Cumberland, Hancock and Kennebec counties, would set their own agendas for future action. That loose coalition of grassroots organizations would communicate through a new umbrella group called the Maine Equal Rights Network. "This will be an all-inclusive human rights and civil rights group," said Peard. Representatives from MWD, Maine Lesbian-Gay Political Alliance, Maine Civil Liberties Union, National Organization for Women, the League of Women Voters and others "would be able to put their resources together while keeping in contact with folks on the ground."
Among the new network's jobs will be keeping an eye on potential "stealth" candidates who are hiding or downplaying their anti-gay platforms. In addition, the group would coordinate legislative efforts to pass a state civil rights law and measures to preserve and expand legal protections for gay marriages.
(Maine law does not currently allow same-sex marriages, but would recognize such marriages performed legally in another state. A proposal to legalize gay marriage is currently being debated in Hawaii. Proposals to ban same-sex unions in Maine have been discussed by conservatives, but a bill to accomplish that was withdrawn before this year's legislative session began.)
Peard believes supporters of gay and lesbian rights must maintain a high level of preparedness for future political attacks. The current national climate seems to warrant readiness as well. Regardless of whether Republican presidential hopeful Pat Buchanan actually receives his party's nomination, it's likely that the level of intolerance he's fomenting will trickle down in some form in the November election. Peard also warns that Question 1 was defeated by a narrow margin, leaving the possibility the religious right will make another attempt to put the issue on the ballot. Oregon, for instance, is currently in the midst of its fourth human rights referendum in eight years.
"We don't have to build from the ground up if we should again be needed," said Peard. "We are now in a position to contact people quickly with our phone tree, we have tremendous grassroots support and we have a vast array of resources and aid from our coalition members ... we're ready to go. We would be crazed to let it slip away."
While all these changes are going on, MWD's executive board is occupied with a major task. "We have an obligation to retire our outstanding financial debts that were accrued during the election," said Peard. That debt amounts to approximately $40,000. "We do not want to pass this debt on to the next board or, God forbid, campaign."
After the debt has been paid, the current board of MWD will dissolve. Individual chapters will go on and perhaps rename themselves. Some chapters may be absorbed by support networks already in place. The Aroostook County chapter, for example, will likely be under the sponsorship of Northern Lambda Nord, a
northern Maine-New Brunswick support group for gay, lesbian and bisexual people.
However, Peard intends to retain the name "Maine Won't Discriminate" as a political action committee. PACs are registered with the secretary of state's office as separate legal and fiscal entities distinct from the organizations that form them. "We will hold on to our PAC name because of the tremendous political name recognition it now has," Peard remarked. "Also, it is not improbable to believe that if we retired the name, Carolyn Cosby might appropriate the PAC name and call herself Maine Won't Discriminate. I intend to remain the registered agent."
In the meantime, local chapters of MWD have their work cut out for them. The Cumberland County chapter has already outlined an ambitious set of objectives which include working for political candidates, starting a newsletter and promoting education programs. They're also looking for a new name.
When the next fight develops, the remnants of MWD intend to be better prepared. Considering they sent Concerned Maine Families packing in November, the new organization should be strong enough to give Carolyn Cosby fits.
---
[Go to Top]