June 28, 1999
Balloon release to show gay pride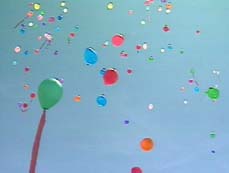 El Paso
A local gay advocacy group, Lambda, sponsored a balloon release Sunday as part of the nationally recognized Gay Pride Month.
The organizers say all the different colors represent all facets of society: majority and minority. Some 800 balloons were released for this the sixth year of celebrating gay pride in El Paso.
A Lambda volunteer says this weekend should serve as a reminder to everyone that pride month is not a time to focus on differences, but instead to emphasize our common humanity.
KVIA-TV, 7 News