November 27, 1998
EP group to counsel U. of Wyo. officials on anti-gay violence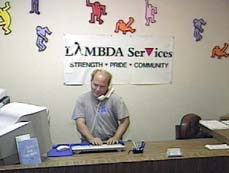 El Paso
Members of Lambda, an El Paso gay and lesbian anti-violence organization, will soon travel to the University of Wyoming to help form an anti-violence program there.
University officials have asked the El Paso group and others for assistance since the brutal hate murder was committed against student Matthew Shepard.
Shepard was killed by two of his peers after he had admitted he was a homosexual. The highly-publicized incident has sparked a surge of anti-gay sentiment across the state, university officials said.
Lambda is a group that deals with victims of hate crimes based on sexual orientation. Several volunteers will meet Dec. 1 with university officials, police and gay rights activists to provide input.
"As we understand it, no one has helped the folks in Wyoming," said Rob Knight, president of Lambda. "There are no gay bars. When people are attacked, they have no place to turn -- no place to call."
KVIA-TV, 7 News