LGBT People of Color Filmlist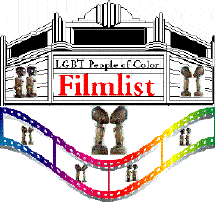 A Database of Films and Videos Produced By, For and/or About Gay, Lesbian, Bisexual and Transgendered People of Color.


The FILM LIST, v1.0 (Aug. 1995) is the latest step in an on-going project to compile a comprehensive computer data base first undertaken in August 1994 on films and videos produced by, for and/or about Gay, Lesbian, Bisexual and Transgendered People of African, Asian, Latin, Middle Eastern and Native American Descent.
In the growing body of filmwork on the subject of homosexuality, bisexuality and transgenderism, that subsection devoted to or produced by People of Color is a comparatively small one.
However, due to a specific search to find such films and videos for inclusion in the Capital Region's Third Annual Lesbian & Gay Film and Video Festival in Albany, NY, I was able to compile a listing of some 56 titles, by film and videomakers located around the world. Because of time restraints, I cut short my search shortly thereafter. At that time I got the distinct impression that I did not even begin to scratch the surface of all that is out there.
The purpose for developing this data base is to make this information more widely available to those engaged in a similar type search for films and videos, for festivals, educational, theatrical or broadcast use. This is the first time this list has been made available on the Internet.
As novel writing was to a previous generation, film and video production is today one of the most popular forms of personal artistic expression. More and more, GLBT People of Color are using this medium to find their voice. As a result, this list will out of necessity grow in time.
If you are, or know of, a film or video maker, located in any country, who is of Asian, Black, Spanish Speaking, Middle Eastern, or North or South American Indian ancestry, who has produced a project of any kind pertaining to the lives of Gay, Lesbian, Bisexual or Transgendered people, please provide the information in the same format as those listed herein. Information, corrections, and changes may be emailed to: Bernard J. Tarver at BT11360@aol.com.
Entries in the FILM LIST are formatted in the following manner:
General Subject/Sexual Orientation (Asian/Black/Latin/Native American)/(Gay/Lesbian) Film Title Filmmaker's name
Rental fee/format (video or film) Running time/color or b&w Distributor
Brief Synopsis (including year of completion and country of origin)
Where distribution sources are available, a list has been provided at the end.
---
Asian/Gay
Flowing Hearts: Thailand Fighting AIDS John Goss
$75.00/video 32 minutes Video Data Bank

This document of grass-roots AIDS education in Thailand presents the unique approach to AIDS education of the White Line Dance Troupe, who combine traditional Thai dance, modern dance, and Thai popular music in their educational performances. Also featured on the tape are scenes of safer sex instruction from a gay bar owner and two handsome young men; health care information from the director of FACT, the Fraternity of AIDS Cessation in Thailand, which was started and funded by gay Thais to educate all segments of their society. (1992, USA)

Asian/Gay
Bangkok (Fighting AIDS) John Goss
$50.00/video 6 minutes Video Data Bank

The White Line Dance Troupe blends traditional dance with popular Thai rock music, creating a unique cultural form. In this piece (an excerpt from "Flowing Hearts: Thailand Fighting AIDS"), the White Line Dance Troupe performs a dance in which the heart of the gentle kingdom is threatened and condoms are the only hope. The lyric is the complete Thai name of Grung Thep, the angel city, known to the rest of the world as Bangkok. The dance reflects traditional conflicts of good and evil, in a form unique to Thai culture. (1991, USA)

Asian/Gay
Memory Pictures Pratibha Parmar
$50.00/video 24 minutes; color Frameline

Parmar's work addresses racism and sexual identity through the story of photographer, Sunil Gupta. Gupta's family migrated from Asia to Canada, and his work documents the journey west, examines racism from the perspective of migrating people, and is seasoned by a particular gay sensibility. The narration by Meera Syal poetically threads together the film's themes about a history "bursting to be told." (1989, UK)

Asian/Gay
Orientations Richard Fung
$75.00/video 56 minutes Video Data Bank

In response to the dominant impression that "gay people are white people", "Orientations" aims to set the record straight. More than a dozen men and women of different Asian backgrounds speak frankly, humorously and often poignantly about their lives as members of a minority within a minority. They speak about coming out, homophobia, racism, cultural identity, sex--the ways that being Gay and Asian have shaped who they are. (1984, Canada)

Asian/Gay
Chinese Characters Richard Fung
$50.00/video 22 minutes Video Data Bank

Asian men relate their histories and relationship to pornography, as personal techniques are demonstrated and finally deployed in a "High Noon" dream of sexual adventure. (1986, Canada)

Asian/Gay
Steam Clean Richard Fung and Gay Mens' Health Crisis
$50.00/video 4 minutes Video Data Bank

Made for Canadian TV and targeting the Asian gay community, this PSA leaves little room for doubt on the safe use of condoms by speaking its message in seven languages. (1990, Canada)

Asian/Gay
Minoru & Me Toichi Nakata
$60.00/video 45 minutes; color Frameline

British-based filmmaker Toichi Nakata invited his Japanese pal Minoru to visit him in London. Minoru, who has cerebral palsy, tells Toichi he has a confession to make. "Minoru & Me" is the real life video result. It's a horribly honest drama: Toichi becomes increasingly obsessed with portraying Minoru as disabled and dependent; Minoru becomes increasingly disgusted and unable to state what he's traveled so far to say. Much to learn about disability, coming out and the role of the filmmaker. (1992, UK) [Japanese and English language, English subtitles]

Asian/Lesbian
Malaysian Series 1-6 Azian Nurudin
$40.00/video 15 minutes; color Frameline

Videomaker Azian Nurudin was inspired by the early '80s punk scene. "Malaysian Series 1-6" presents a succession of brief performances. In each, Nurudin, dressed in leather jacket and print sarong, alternately whips and beats various small appliances--a TV, a toaster oven. A hypnotic, punky assault on aspects of Western culture. (1986-87, USA)

Asian/Lesbian
Wicked Radiance Azian Nurudin
$35.00/video 5 minutes; b&w Frameline

A film that delves into aspects of S/M sexuality and the director's Muslim background. Erotic and darkly esoteric, "Wicked Radiance" artfully details the rituals involving a sexual bondage scene between two women. Nurudin uses extreme close ups and skillfully blends and contrasts shadow and light, creating a rich texture of stark, black and white images. Hands are tied, backs are whipped and violence is sexualized in Nurudin's steamy, gorgeous and haunting video essay. A pulsating drum performance drives the video's soundtrack. (1992, USA) [Malay language]

Asian/Lesbian
Just a Love Thang Mari Keiko Gonzalez
$35.00/video 4 minutes; b&w Frameline

"Just a Love Thang" is a video illustrating through melodramatic, sensual vignettes, the "normalcy" of an Asian Pacific American lesbian couple juxtaposed with the way Asian Pacific Americans are depicted in the media. Two women come together at a yogurt store where one of them works. Funny, sexy, and erotic, this short tape explores desire and cultural identity. (1993, USA)

Asian/Lesbian
Skydyking Mari Keiko Gonzalez
$35.00/video 4 minutes; b&w Frameline

In "Skydyking" a young Asian Pacific American lesbian fantasizes about coming out to her estranged mother. (1993, USA)

Black/Gay
Party Alan Sharpe and Charles Sessoms
Free/video 26 minutes; color GMAD

Written by Black Gay men for Black Gay men, "Party" is designed to stimulate discussion and encourage values clarification and peer support among Black Gay men around a range of HIV and STD risk reduction issues. "Party" uses a dramatic format to engage its audiences in safer sex issues as they present themselves in real life on the individual and community level. "Party" was screened at The New Festival, (NYC's Gay and Lesbian Film Festival) in 1993. (1993, USA)

Black/Gay
What Does It Mean to Capture a Soul? Amos White V
unknown/video 3 minutes self-distributed

A mask or image of "color" is superimposed over a young man's image to the strains of a murky, weirdly-sung blues song, seemingly usurping his soul and raising more questions than answers about identity and assimilation. (1993, USA)

Black/Gay
Significant (Br)other Charles Lofton
unknown/video 5 minutes self-distributed

Juxtaposes a text by Isaac Julien and Kobena Mercer with erotic images of Black men to interrogate the problematic objectification of the Black male body by white photographers and pornographers, while acknowledging desire and subsequent ambivalence many Black Gay men feel about those images. (1993, USA)

Black/Gay
Gender, Lace and Glass David Findlay
unknown/video 3 minutes V Tape

A pyrotechnic meditation on desire and identification as the filmmaker constructs his own mirror on the lens of a video camera. (1992, Canada)

Black/Gay
The Attendant Isaac Julien
$50.00/ video; $65.00 /35mm 8 minutes; color Frameline

From the maker of "Looking for Langston" and "Young Soul Rebels", the attendant is an older, wiser, Black man who works in an art museum, where he sees a 19th century painting "Scene on the Coast of Africa" of slaves and chains, come to life. Vivid imagery reveals the man's fantasy of psychic pleasures of sado-masochistic relationships. (1992, UK)

Black/Gay
This Is Not an AIDS Advertisement Isaac Julien
$35.00/ video 10 minutes; color Frameline

An impressionistic antidote to the passionless guilty AIDS awareness campaign conducted in Britain in 1987. The first half combines sad, romantic images of Black and white men with soft focus landscape shots. The second half moves uptempo with a rap and a witty mix of butch and camp imagery. Strong political messages for Black, white, gay and straight audiences. (1988, UK)

Black/Gay
The Male Gayze Jack Waters
$40.00/ video 11 minutes; color Frameline

A Black dancer relates a salutary anecdote about losing a competition in Europe, and about being courted by one of the judges--who turns out to be fixed on exploiting his image. "If there's a distinction between pornography and erotica," says the narrator, "then pornography always produces a victim." (1990, USA)

Black/Gay
A Moffie Called Simon John Greyson
$50.00 /16mm 15 minutes; color Frameline

Simon Nkodi is a Black Gay activist and South African student leader. This compact, instructive political dramatization (from the director of "Urinal") examines the events leading up to his jail term and tackles the connections between the gay and anti-apartheid movements. (1987, Canada)

Black/Gay
Affirmations Marlon Riggs
$40.00 /video 10 minutes; color Frameline

From the maker of "Tongues Untied", an exploration of Black Gay male desires and dreams. "Affirmations" starts with an affectionate, humorous confessional and moves on to a wish for empowerment and incorporation. (1990, USA)

Black/Gay
Anthem Marlon Riggs
$40.00/ video; $45.00/16mm 9 minutes; color Frameline

Marlon Riggs' experimental music video politicizes the homoeroticism of African American men. With images--sensual, sexual and defiant--and words intended to provoke, "Anthem" reasserts our "self-evident right" to life and liberty in an era of pervasive anti-gay, anti-Black backlash and hysterical cultural repression. (1991, USA)

Black/Gay
No Regret (Non, Je Ne Regrette Rien) Marlon Riggs
$75.00/video;$125.00/16mm 38 minutes; color Frameline

Through music, poetry and quiet, at times, chilling self-disclosure, five seropositive Black Gay men speak of their individual confrontation with AIDS, illuminating the difficult journey black men throughout America make in coping with the personal and social devastation of the epidemic. From panic, resignation and silence to the discovery of the redemptive, healing power in being vocal and visible as HIV-positive Black Gay men, each tells a singular and at the same time familiar story of self-transformation. (1992, USA)

Black/Gay
Tongues Untied Marlon Riggs
$80.00/video;$150.00/16mm 55 minutes; color Frameline

This is the acclaimed account of Black Gay life by Emmy Award-winning director Marlon Riggs. Using poetry, personal testimony, rap and performance, "Tongues Untied" describes the homophobia and racism that confront Black Gay men. Some of the tales are troublesome: the man refused entry to a gay bar because of his color; the college student left bleeding on the sidewalk after a gay-bashing; the loneliness and isolation of the drag queen. Yet Riggs also presents the rich flavor of the Black Gay male experience, from protest marches and smokey bars to the language of the "snap diva" and Vogue dancer. (1989, USA)

Black/Gay
Billy Turner's Secret Michael Mayson
$50.00/ video; $85.00/16mm 26 minutes; color Frameline

Billy and Rufus live together and share everything, except Billy's secret--he's gay. Rufus just isn't ready to deal with it: the only thing he hates more than a faggot is a pushy woman. But when the cousin of Rufus' put-upon girlfriend drops by unexpectedly, it looks like Billy's secret might be out of the bag. (1990, USA)

Black/Gay
Rage & Desire Rupert Gabriel
$50.00 /16mm 17 minutes; color Frameline

This elegant, personal memorial to Black Gay photographer Rotimi Fani-Koyode traces his life and work to its origins in Yoruba art. Through music, dance and archives, this impressionistic docu-drama links his work to Yoruba art, and lovingly pays tribute to the man and the artist. (1992, UK)

Black/Gay
Black Body Thomas Harris
$50.00/video 5 minutes Video Data Bank

"Black Body" is a harsh and compelling meditation on the contradictory values assigned to Black bodies in American culture: they exist as both desired and feared, abject and powerful. The "black body" is a body whose surface reflects projected fears and repressed desires, as such, it exists as a site of ideological struggle, a surface which is simultaneously eroticized and denigrated. With nightmarish narratives and loaded terms hovering over an image of a naked torso bound with wire, Harris shows how these contradictory values continue to cripple and contort the self-image of blacks. (1992, USA)

Black/Gay
Splash Thomas Harris
$50.00/video 7 minutes Video Data Bank

A fable-like tale, "Splash" explores the interplay between identity, fantasy, and homosexual desire in pre-adolescence within the narrow construction of black masculinity. The tape is an exploration of the filmmaker's psycho-social and sexual development within a society that encourages the consumption of whiteness and heterosexuality. Unwittingly, the family becomes the agency through which sexual repression and gender conformity are carried out. (1991, USA)

Black/Gay
Media Blackmale Wendell Bruno
unknown/video 5 minutes self-distributed

An angry and eloquent reflection on objectification and racism. Black (gay) men in the nightmarish landscape of the modern world. (1992, Canada)

Black/Gay/Lesbian
All in the Family/a work-in-progress Thomas Harris
unknown/video 15 minutes; color self-distributed

About lesbians and gay siblings in Black families. (1993, USA)

Black/Gay/Lesbian
Human Touch: Pain and Power Vejan Lee Smith
unknown/video 30 minutes self-distributed

Three women and men, survivors of incest and sexual abuse, explore how they experience touch as children and as adults. (1993, USA)

Black/Latino/Gay
Voguing: The Message David Bronstein, Dorothy Low, Jack Walworth
$40.00/video 13 minutes; color Frameline

By now, most of us know what voguing is. "Voguing: The Message" traces its roots as a gay, Black and Latino dance form which appropriates and plays with the poses and images from mainstream fashion. Voguing competitions parody fashion shows and are rated for the contestant's best movement, appearance and costume. (1989, USA)

Black/Lesbian
Silence...Broken Aishah Shahidah Simmons
unknown/video 8 minutes self distributed


An experimental narrative video about an African American lesbian's refusal to be silent about racism, sexism and homophobia. This video is inspired by and dedicated to the life and work of Audre Lorde. (1993 USA)

Black/Lesbian
Edges Ayana Udongo
unknown/video 4 minutes self-distributed

No longer content to exist along the edges of life, this good girl finally realizes herself and her sexuality. (1993, USA)

Black/Lesbian
Among Good Christian Peoples Catherine Saalfield & Jacqueline Woodson
$60.00 /video 30 minutes; b&w and color Frameline

Based on an essay by Jacqueline Woodson, "Among Good Christian Peoples" gives the inside story of a Black, Lesbian Jehovah's Witness who grew up learning how to be in the world, but not of it. (1991, USA)

Black/Lesbian
She Don't Fade Cheryl Dunye
$50.00/video 23 minutes Video Data Bank

"She Don't Fade" chronicles the experiences of one woman's search for love. Dunye plays Shae, a Black Lesbian who is trying out her "new approach" to women. Dunye's use of narrative and humor are effective not only in showing the intimacies of lesbian relationships, but also in portraying, as she tells us, "...a Black Lesbian's sexuality in the context of a broader lesbian community." The tape provides a refreshingly personal account of the excitement and enjoyment felt between women in love. (1991, USA)

Black/Lesbian
The Potluck and the Passion Cheryl Dunye
$50.00/video 20 minutes Video Data Bank

"The Potluck and the Passion" depicts the one-year anniversary celebration of the same Lesbian couple that got together in "She Don't Fade". The video, however, focuses non on the hostesses, but on the relationship between two of their guests: an interracial lesbian couple, Megan and Tracy. Juxtaposing scenes from the party, Megan and Tracey's personal reflections, and stereotypical images of black and white women, Dunye's video is a commentary on inter-racial lesbian relationships and the historical relationship of African American women to issues of race, sexuality and gender. (1992, USA)

Black/Lesbian
She Left the Script Behind Dawn Suggs
unknown/16mm 6 minutes unknown

A scenario of a modern day plantation moves to the city streets as a young black actress resist, the roles constructed for her. (1993, USA)

Black/Lesbian
International Sweethearts of Rhythm Greta Schiller & Andrea Weiss
$125.00 /16mm (for paid admission only) 30 minutes; color and b&w Frameline

The International Sweethearts was a 16 piece interracial, all women jazz band in the '40's. The film tells the story of the whole band: their tense tour of the South; success in the clubs in New York and Chicago; the routine sexism and racism and the women's excited autonomy. [See also "Tiny and Ruby: Hell-Divin' Women. The two films can be shown together] (1987-88, USA)

Black/Lesbian
Tiny and Ruby: Hell-Divin' Women Greta Schiller & Andrea Weiss
$125.00/16mm (for paid admission only) 30 minutes; color and b&w Frameline

This film highlights two of the International Sweethearts' most memorable characters: drummer Ruby Lucas and her long-term lover, legendary jazz trumpeter Tiny Davis. Exults Tiny, "I loved them gals!" [See also "International Sweethearts of Rhythm". The two films can be shown together for a discounted rate of $200.00] (1987-88, USA)

Black/Lesbian
Ife' H. Len Keller
$30.00/ video;$35.00 /16mm 5 minutes; b&w Frameline

A day in the life of a Black French lesbian in San Francisco. Ife' loves women, but vows never to fall in love. Ife' extols the beauty of women in San Francisco while she slowly cruises the city's streets in a classic car. Her philosophy is "You can never experience too many women." The comparisons between women in Paris and S. F. are both humorous and astute. (1993, USA)

Black/Lesbian
24 Hours a Day Jocelyn Taylor
unknown/video 10 minutes self-distributed

Routine activities take on sexual overtones. (1993, USA)

Black/Lesbian
If She Grows Up Gay Karen Sloe Goodman
$50.00 /video; $45.00 /16mm 23 minutes; color Frameline

A funny, moody, down-to-earth and instructive interview with a young Black mother, who talks about her pregnancy and raising her daughter with her lesbian lover in New York. A different (Black, blue collar) perspective on lesbian families. "I don't see it as being with another woman--I see it as being with somebody that I love." (1983, USA)

Black/Lesbian
Bird in the Hand Melanie Hope & Catherine Saalfield
$60.00/ video 25 minutes; color Frameline

Simone and Kaya are lovers trying to escape New York City for the weekend and the reality of their friend Ayo's abusive relationship. Along the way, Kaya, who is Ayo's ex-lover, becomes more and more obsessed with tracking her down before leaving. Both humorous and at times discomforting, "Bird in the Hand" addresses issues around co-dependency and obsession. (1992, USA)

Latina/Gay/Lesbian
Homoteens Joan Jubela
$75.00/video 60 minutes; color Frameline

Five young gays and lesbians in NYC produced their autobiographical portraits with help from Joan Jubela. Monique talks of being a Latina dyke in NYC. Peter tells of his long distance relationship with a closeted athlete boyfriend. An anonymous 15 year old talks about being hassled at school. 17 year old Henry Diaz tells about the organization that helped him come out, Youth Force. Nicky, a 19 year old Afro-Caribbean-American lesbian tells us about growing up a Jehovah's Witness. (1993, USA)

Latina/Gay/Lesbian
Seams Karim Ainouz
$80.00/16mm 30 minutes; color and b&w Frameline

"Seams" is an experimental narrative about machismo in the Northeast of Brazil. It is also a lyrical visit with Ainouz's five Brazilian great-aunts, each of whom relates stories about romance, marriage, suffering and survival in a man's world. The narrative from one of the stories is spliced into the conversations with Ainouz's aunts. Ainouz weaves an account of Brazil's social and sexual constraints for women and gay men, seen through the eyes of these five elderly women. This is both a hauntingly beautiful exploration of resistance and a collective autobiography. (1993,Brazil/USA) [Portuguese language, English subtitles]

Latina/Gay/Lesbian
East River Park Zoe Leonard
$40.00/16mm 6 minutes; b&w Frameline

An artful film which captures the essence of humankind at its worst. Six minutes of silent footage offer a tour of homophobic and hateful graffiti scrawled over benches and walls in an urban park. The personal and persecuting nature of the defacements is a chilling reminder of the attitudes and fears perpetuated by ignorance. A good film to accompany discussion about violence, homophobia and AIDS stigmatism. (1992, USA)

Latina/Lesbian
Kim Arlyn Gajilan
$40.00/video 27 minutes; color Frameline

Kim is a young Puerto Rican lesbian who describes coming out and coming of age in New York City. But it's not the usual story; it's a candid face-against-the-face confessional. Kim talks us through the bar scene, the life of an exotic dancer, and the finding of feminism--which changes her feelings about her sexuality and about her relationship with her mother. (1988, USA)

Latina/Lesbian
After the Break Mary Guzman
$40.00/video;$50.00/16mm 13 minutes; b&w Frameline

A lesbian therapy group leads to personality clashes in this funny film about co-dependency, domestic violence and the ability to love. Guzman's "After the Break" is dead-on about the process of "processing." Anyone who has ever tried to communicate their feelings, or listened to others communicate theirs will relate. A narrative with the motto: "I am tough...and I can love." (You can also get rid of that abusive girlfriend.)

Latino/Gay
Cholo Joto Augie Robles
unknown/video 12 minutes self-distributed

Rough and powerful. Latino Gay men negotiate an existence somewhere between machismo and role rejection, between a largely racist gay community and the absence of other spaces to be gay. (1993, USA)

Latino/Gay
History of Violence Danny Acosta
$40.00/video;$40.00/16mm 7 minutes; color Frameline

This disturbing and controversial experimental film tells the story of 28 year old Ray Garcia, whose abusive upbringing still affects him deeply. His personal history growing up in a violent family, compounded with the barrage of violence he views on television pushes him over the edge. In the end he contemplates committing violent crimes himself. "History of Violence" questions the power that familial and media violence has on both individuals and our culture at large. Winner, U of Oregon Queer Film/Video Festival Competition, 1993. (1991, USA)

Latino/Gay
Mala Noche Gus Van Sant
$225.00/16mm;$250.00/35mm 78 minutes; b&w Frameline

By the director of "Drugstore Cowboy" and "My Own Private Idaho", "Mala Noche" is a stunning, ultra-realistic glance at a young gay man's unrequited love for a 16 year old Mexican. Walt, who is openly and happily gay, lives and works among the transients, winos and migrant workers who make up Portland's skid row. When he meets Johnny he develops a hopelessly doomed passion that he knows is pointless--but he can't seem to shake it. (1986, USA)

Latino/Gay
Wild Life John Goss
$75.00/video 40 minutes Video Data Bank

A portrait of two 15 year old Gay Latinos, combining documentary-style interviews with fictional segments in which they act out their "typical" L.A. day. (1985, USA)

Latino/Gay
Cities of Lust/Ciudades de Lujuria Raul Ferrera-Balanquet
unknown/video 30 minutes self-distributed

An experimental documentary that deals with issues of gay men's sexuality and relationships in the Afro-Latina/o diaspora. (1993, USA)

Latino/Gay
Merida Proscrita Raul Ferrera-Belanquet & Enrique Novello Cascante
$40.00/video 7 minutes; color Frameline

"Merida Proscrita" is a sad, sepia love story set in Mexico, with a distinctive scratchy, operatic style. It's a moving account of two Latino lovers and the relationship difficulties caused by machismo and fixed roles. (1990, Mexico/USA) [Spanish language with English subtitles]

Latino/Gay
Both Vic De La Rosa
$35.00/video;$40.00/16mm 8 minutes; b&w Frameline

A painfully honest and beautiful documentary of a romance between two HIV positive San Francisco men. The filmmaker captures a day in the life, a day like any other, in which Jeff and Gary, like any other couple, buy groceries, tend to the garden, cook dinner, and take time to relax together. De La Rosa's film is somewhere between documentary and narrative, incorporating the nostalgia of "home movies" with an experimental edge. (1993, USA)

Native American/Gay
A Light On The Path Marco Puccioni
unknown/video 16 minutes self-distributed

A gay male Italian narrator uses his infatuation with American Indian culture as the genesis for an exploration of homosexuality and Native American tradition. (1993, Italy/USA)

Native American/Gay/Lesbian
Two-Spirit People Lori Levy, Gretchen Vogel and Michel Beauchemin
$55.00/video 20 minutes; color Frameline

An overview of historical and contemporary Native American concepts of gender, sexuality and sexual orientation. This documentary explores the Berdache tradition in Native American culture, where individuals who embody feminine and masculine qualities act as a conduit between the physical and spiritual world, and because of this they are placed in positions of power within the community. (1991, USA)
---
DISTRIBUTORS
Frameline
346 9th Street
San Francisco, CA
(415) 703-8650


Video Data Bank
37 South Wabash Avenue
Chicago, IL 60603
(312) 345-3550


Films that are distributed by their filmmakers:

24 Hours A Day
Jocelyn Taylor
272 Sackett Street
Apt. 1R
Brooklyn NY 11231


All in the Family
Thomas Allen Harris
(718) 596-3744


Cholo Joto
Augi Robles
172 Clinton Park
San Francisco, CA 94103


Cities of Lust/Ciudades de Luguria
Raul Ferrera-Belanquet
(312) 663-1600


Edges
Ayana Udongo
932 N. Wolcott Avenue
Chicago, IL 60622


Gender, Lace and Glass
V Tape
183 Bathurst Street
1st Floor
Toronto, Ontario, Canada M5T 2RT


Human Touch: Pain and Power
Vejan Lee Smith
248 E. 3rd Street #2D
New York, NY 10009


Media Blackmale
Wendell Bruno
4670 St. Urbain Street, Apt. 1
Montreal P.QP. Quebec, Canada H2T 2V8


Significant (Br)other
Charles Lofton
112 Suffolk Street
New York, NY 10002


AFROLEZ Productions
"Silence...Broken"
PO Box 58085
Philadelphia, PA 19102-8085
Aishah@afsc.org

What Does It Mean To Capture A Soul?
Amos White V
55 W. 111th Street #2E
New York, NY 10026


Party
Gay Men of African Descent
666 Broadway
Suite 520


Bernie
New York, NY 10012-2317
(212) 420-0773


Information, corrections, and changes may be emailed to: Bernard J. Tarver at BT11360@aol.com.

---

Last updated: 05 May 1996 by Chuck Tarver