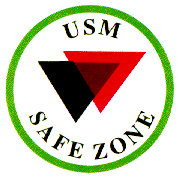 Safe Zones at the University of Southern Maine
THE "SAFE ZONE" SYMBOL
The "Safe Zone" symbol sends a message to students and colleagues.This message is one of understanding, non-judgment,and knowledge of gay, lesbian, and bisexual persons' needs and concerns. It is symbolic of a willingness and a commitment on your part to provide atmosphere of acceptance and assistance.
WHY DO WE NEED THIS PROGRAM AT USM?
Our gay, lesbian, and bisexual students feel nearly invisible on our campus and sometimes find the climate uninviting or even hostile. These conditions foil our attempts at fostering student development and growth. "Safe Zones" is a way for us to reach out to these students and include them in all aspects of education and community at USM.
TO BE A "SAFE ZONE" YOU MUST:
Believe that our campus is enriched and enlivened by the diversity of gay, lesbian, and bisexual people.
Be aware of the presence of gay, lesbian, and bisexual students and colleagues and be willing to have discussions with them and to interact with them.
Be willing to discuss issues impacting gay, lesbian, and bisexual peoples' lives in a non-judgmental manner.
Be willing to assist students in accessing support and information resources on campus and in the community.
Maintain confidentiality within the confines of your job.
Use inclusive language and avoid stereotypes.
WHAT ELSE CAN I DO?
Don't assume everyone is heterosexual.
Avoid using terms like "boyfriend" and " girlfriend," try using"partner" or "spouse instead. Review your office's publications.Suggest changes to remove noninclusive language and to include pictorial representation of gays and lesbians.
Acquaint yourself with gays, lesbians, and bisexuals. Learn about culture. Read books, make a friend, attend a talk, or celebrate diversity. Avoid anti-gay remarks, jokes, and statements. As you feel comfortable, confront homophobic displays.
Create an atmosphere of acceptance in your surrounding environment through education. Share your experiences with others.
Provide informed referral by learning the resources available to gays, lesbians, and bisexuals. Learn the developmental process of coming out that is unique to the gay, lesbian, and bisexual experience. Join with gay, lesbian, and bisexual persons to protect civil rights and constitutional freedoms.
If you yourself are gay, lesbian, or bisexual, consider coming out on the job and at work to provide a role model for others.
IF I POST THIS STICKER, WHAT CAN I EXPECT?
That affected students may self-censor their speech less,providing a more genuine and realistic exchange.
To gain a fuller picture of students' lives and concerns. To make a personal contribution to improving the campus environment and the lives of its students.
That students and colleagues may be more at ease when sharing issues pertaining to your job, and will expect a non-judgmental attitude in your work.
To make a difference whether or not you notice any difference in the interactions you have with staff and students.
WHAT SHOULDN'T I EXPECT.
To have to become a counselor or expert, or to need to know answers to questions that do not pertain to your job.
To be the only contact for gay, lesbian, or bisexual students.
To hear intimate self-disclosures.
That others will assume you are a gay, lesbian, or bisexual person.
That others will assume you are intolerant or politically incorrect if you do not post the "safe zone" sticker.
To be expected to participate in political activities involving gay, lesbian, and bisexual issues.