&nbsp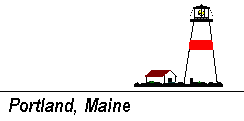 ---
Parents & Friends of Lesbians and Gays
February 1998 Newsletter




If the CLICK does nothing, you do not have Java enabled. Use the [BACK] button instead.
Inside..
COUNTDOWN TO FEB 10TH
Our Next Meeting:
Tuesday, February 10 at 7pm
Woodford's Church

Facilitators: Fran and Dan
Video: "Claiming America's Promise"
produced by PFLAG Houston
---
Betty DeGeneres made honorary member of PFLAG-Portland
Sue and Pauline of PFLAG-Portland had the tremendous pleasure to meet "Ellen's" mom-Betty DeGeneres, who visited Maine to help us defeat the People's Veto referendum. Betty DeGeneres is a member of a California PFLAG chapter. We presented Ellen's mom with a mug filled with our PFLAG-logo chocolate bars and made her an honorary member of our PFLAG-Portland chapter. She was delighted and so were we!
Remember: VOTE NO! on February 10th
---
One year ago...
A bomb explodes on the patio of the Otherside Lounge, a lesbian bar in Atlanta. The bombing is later linked to the bombing of an abortion clinic in the city, and possibly the Centannial Park bombing during the 1996 Olympics. No one is injured.

A report by the Servicemembers Legal Defense Network says 850 gay people were discharged from the military in 1996, the highest number since 1987. The group offers the report as proof that the military's "don't ask, don't tell" policy doesn't work.
---
PFLAG Advocacy report by Sue & Pauline
PFLAG fights for equal rights
The days left until the February 10th vote are dwindling fast. Your co- presidents, Sue and Pauline, have both been involved with the Maine Won't Discriminate campaign. Sue has been speaking and doing a press release as the parent of a gay son. Pauline has been working furiously in the MWD office meeting deadlines. Phone calling needs to be done Monday- Thursday from 6pm-9pm. Can you help? Call Sue at 774-3441, or Pauline at 797-0837.

Sue represents PFLAG-Portland at the Safe Schools Coalition, formed several months ago. The coalition includes representatives from PFLAG, GLSEN (Gay, Lesbian, Straight Educators Network), Maine Speakout Project, and Outright!, the organization supporting G/L/B/T and questioning youth. Together we are writing a grant to fund the duplication of a resource booklet for those interested in creating safe schools. We hope to replicate what has been done by a similar coalition in Washington state. The resource booklet would be shared with individuals and groups in Maine. More details to come.

Mark Your Celendar: Sunday, February 8th at 7pm, members of PFLAG- Portland will take part in An Interfaith Service of Solidarity and Hope with Gay and Lesbian Mainers at St. Luke's Episcopal Church. The church is located at 143 State Street in Portland.

THANK YOU TO ALL PFLAG MEMBERS AND FRIENDS WHO HAVE HELPED GET THE WORD OUT TO VOTE NO! ON FEBRUARY 10TH!
YOUR HARD WORK MAKES A DIFFERENCE!
---

| | |
| --- | --- |
| "Maine is a big small town. We know each other, we care about each other, and we're neighbors in the best sense. And some of those neighbors are gay. But they're part of our community as well, and deserve the same basic rights as you and me. It's not my place to tell you how to vote, but it just strikes me as wrong that somebody should lose their job because they're gay. That's why on February 10th I'm going to vote no." | -Text of Maine Won't Discriminate's 30-second TV commercial featuring Gov. King. The ad is airing on all 4 major channels between 3-7 times a day. |
| "Registering with the state under the name "Yes for Equal Rights" is about as disingenious as it's possible to get. The equal rights in that slogan is a euphemism for the status quo, as opposed to "special rights" these people continue to insist the law confers upon homosexuals. As if holding a job, keeping a home, getting a bank loan or being served in a restaurant qualified as "special rights."." | -Portland Press Herald columnist Jim Brunelle, on the Christian Civic League's deceptive name for its political action committee |
| "The answer, Reverend Falwell, is that we live under a constitution and not your moral code, and that's what you have to appreciate and understand." | -Rep. Jesse Jackson, Jr. (D-Ill.), responding to the Rev. Jery Falwell's criticism of gay adoption on NBC's Meet the Press |
Mark Your Calendar for these upcoming PFLAG Meetings
March 10
Topic: A look back on the emotional and event-filled history of PFLAG in the video PFLAG's 15 Year Journey.
April 14
Guest: Kate Swain Eastman, Psychotherapist, will speak about "The coming out of your child: A grieving process"
PFLAG meets in the basement of Woodford's Church in Portland at 7pm, with gathering time from 6:30-7:00 for socializing and 1-on-1 support.
---
Countdown to February 10th
PFLAG welcomes walker for equal rights
On Saturday, January 31, members of PFLAG joined over 100 other gay rights supporters in welcoming Paul Fuller to Portland. By the time you read this, Fuller will have completed a 350-mile walk from Van Buren, Canada, to Kittery. Fuller's mission: to show his support for a "No" vote on February 10th.

At a rally in Portland's First Parish Church, Fuller told emotional stories of people he'd met during his journey. He spoke of receiving food, donations, hugs, thumbs-up signs and thousands of supportive honks from passing motorists. One man pulled over in his car, shook Paul's hand, and said, "I want to thank you. I know what discrimination's all about-I'm a native American." He was assisted by two friends who escorted him and lined up lodging along the route.

Fuller is an antiques dealer from Waldoboro, who got the idea for the walk while sleeping. During the rally, he spoke of the effectiveness of this simple activity, pointing out famous "walks" by the likes of Mohandes Gandhi and Martin Luther King, Jr.

Other speakers included Portland Mayor George Campbell, Maine Council of Churches president Tom Ewell, Maine Won't Discriminate campaign manager Karen Geraghty, and state senator Joel Abromson, sponsor of the gay rights law, which was passed by the House and Senate and signed by Governor King.
2-out-of-3 Mainers Say "No!" (But...)
An independent survey by Strategic Marketing Services of Portland shows strong support for Maine's new gay-rights law. A whopping 62% Mainers say they would uphold the law.

As expected, support for the law was strongest in southern Maine, where 70% said they would vote "No" on February 10th. That compares with 57% in central Maine and 58 percent in Northern and Down East Maine. However, as Maine Won't Discriminate spokesman Joe Cooper told the Portland Press Herald, "Those numbers don't mean anything if the people don't go out and vote." MWD has been saying throughout the campaign that "Yes" voters will be more inclined to get to the polls at all cost.

Echoing that sentiment in his weekly column in the Maine Sunday Telegram, Editorial Page Editor George Neavoll wrote, "Americans are notorious for not exercising their right to vote for the candidates and position of their choice, then complaining if they don't like the outcome.

"My wife and I are going to the polls to vote "no" on Feb. 10-even if we have to trudge through a blizzard-and I hope you will, too."
Mike Heath: Open mouth, insert foot
Christian Civic League of Maine president Michael Heath hasn't been the most tactical of opponents in the people's veto campaign.

It was Heath who last summer called Portland-Maine's largest city-the "moral gutter," and compared our state legislature to "Sodom and Gomorrah."

Now Heath has come right out and revealed his true colors: "If a Maine businessman or landlord wants to discriminate against a person because of their sexual orientation, they should be allowed to do so." Heath made that incredible statement in a November fundraising letter. He further went on to claim that, "A modern, unrepentant American homosexual would not want to work for, or rent from, Jesus." Remarks such as those have stunned and repulsed citizens all across the state, including Joel Russ, executive director of the Greater Portland Chamber of Commerce.

"When I read the statement from the Christian Civic League, I was personally outraged," Russ told the Portland Press Herald. "I think it was an obnoxious statement. I hope the people of Maine are offended by that kind of language and thought." Listeners of WGAN-AM radio, including PFLAG-Portland members, called in to talk with Heath during a recent conversation during the station's morning show. After asserting that sexual orientation-gay and straight-is freely chosen, Heath was asked by a caller, "When did you choose to be straight?"

Alas, Heath was unable to remove his foot from his mouth in time to respond before the next commercial break.
---
"For the record, Mr. Harmon..."
In a scathing attack on gay rights supporters in his weekly column in the Portland Press Herald, writer M.D. Harmon (erroneously) asserted that there are "hundreds" of frivoulous lawsuits being filed by gays and lesbians under the guise of discrimination.

In one of those cases, Harmon wrote that a Boston bar owner was forced to file bankruptcy after he was fined $30,000 for ejecting a gay couple for "hugging and kissing in front of his other patrons." Press Herald reader Janice Campbell thought that was odd. After researching the incident, Campbell found that bar owner George Varoudakis's bouncers threw them out with such force that "one woman incurred $500 in medical bills."

It was further discovered that Mr. Varoudakis had already been fined $25,000 by the USDA for using uninspected meat and poultry at his catering company...and had been cited by the Equal Opportunity Commission for "forcing waitresses to wear revealing outfits" and ignoring a complaint of sexual harassment by a customer. On top of all that, Mr. Varoudakis was fined the $30,000 after his bar had gone belly-up.

FACT: There has been no outbreak of frivoulous lawsuits in cities and states where gay rights laws have taken effect.
---
A word from the editor
You know what really gets my goat? Comments like these:

"It is clear that a homosexual who wants to please God must give up his/her practice of homosexuality."

"Homosexuals should admit there's an element of choice in what they do."

"Why should the gay agenda force its lifestyle on those who do not believe in it?"

"Everyone will choose to be gay just so they can sue their employers."

"It is a matter of legitimizing the homosexual lifestyle." These are just a few of the rantings from the editorial pages of late. And they crystalize the difference between the "Yes" and "No" side of this referendum. As you know as parents and friends of gays and lesbians, homosexuality is not a practice...not a behavior...not a lifestyle or an agenda.

I don't know anyone who chose to be gay-I certainly didn't. And my question to the religious right is: WHY DON'T YOU BELIEVE US? I think it's because it would, for the umpteenth time, force them to look at their long history of incivility towards minorities, once again jarring these people out of their divine comfort zones.

It is so important to get out the "No" vote on February 10th, if only to reaffirm-for the umpteenth time-that Maine won't discriminate; and to prove, by actually having the law on the books, that there will be no flood of frivolous lawsuits or mandatory statewide switchover to a "gay agenda."
---
In other news...
UMaine is site of alleged hate crime-A civil rights complaint has been filed against 26 year-old University of Maine student Kirk R. Daigle, who's accused of entering another student's room and making homophobic comments. State Attorney General Andrew Ketterer's office says the complaint alleges that Daigle entered the student's dorm room after seeing a "Maine Still Won't Discriminate" brochure on his door, asked the student if he was a "fag," and made other homophobic comments.

Assistant A.G. Stephen Wessler says the incident is significant in terms of the upcoming people's veto referendum Feb. 10th. "This makes it visibly clear, for those who argue there is no discrimination against gays and lesbians in this state, that there's a minority that is extraordinarily biased," he told the Portland Press Herald.

"Don't Ask, Don't Tell" goes too far-A judge has blocked the Navy from dismissing a sailor who listed himself as "gay" on his America Online profile. "The Navy has gone too far," said Federal Judge Stanley Sporkin, who ruled that the Navy had no business prying into the private on-line profile of Timothy R. McVeigh (no relation to the Timothy McVeigh convicted of the Oklahoma City bombing). Sporkin said the Navy violated "don't ask, don't tell," by pursuing McVeigh with a "search and outing mission." McVeigh's lawyer said, "The judge knew a witch hunt when he saw one." AOL has apologized, saying it should never have released McVeigh's profile to the Navy.

Gay cruise to Cayman Islands blocked-In one of the most blatant displays of homophobia, Cayman Islands officials say a Caribbean cruise ship with 900 gay travelers will not be allowed to dock there. Atlantis Events, Inc., the cruise organizer, received a letter from Cayman Islands minister Thomas C. Jefferson saying, "Careful research and prior experience has led us to conclude that we cannot count on this group to uphold the standards of appropriate behavior expected of visitors."

Atlantis Events president Rich Campbell responded: "It's amazing that they would go to such lengths to keep us out. We're talking about a seven-hour visit by well-heeled travelers." The publisher of the gay travel newsletter Out and About has urged his 10,000 subscribers to vacation elsewhere.
---
Contents by permission from PFLAG-Portland Newsletter
Online editing and format: Paula Stockholm