&nbsp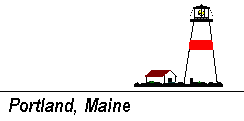 Parents & Friends of Lesbians and Gays
January 1998 Newsletter




If the CLICK does nothing, you do not have Java enabled. Use the [BACK] button instead.
---
Advocacy Update
by Sue & Pauline
Peabody House update

On Friday, December 19th, Pauline and her husband, and Fred and Anita visited the Peabody House to present baskets filled with essentials and goodies for the six residents there. The PFLAG group had tea and met with 4 of the residents. Our thanks to everyone who contributed cash or items to complete the baskets, which were very warmly received. The Peabody House provides care for men and women with AIDS.
PFLAG to donate proceeds from January meeting to MWD
To help defeat the Feb. 10 people's veto ballot initiative, PFLAG will donate all the money it collects during the January 13 meeting to Maine Won't Discriminate, the organization spearheading opposition to the measure.

Checks made out to Maine Won't Discriminate (please do NOT make them out to PFLAG) are preferable, but cash donations
will also be accepted. If you can't make the meeting, you may send contributions to:

Maine Won't Discriminate
P.O. Box 11061
Portland, ME 04104

Every dollar counts. Let's make it clear one last time that Maine will not discriminate. And be sure to vote NO on February 10th.

Volunteers are needed at Maine Won't Discriminate's office at 565 Congress Street. Drop by anytime or call them at 772-7740 for more information.
One year ago...
San Francisco mayor Willie Brown refuses to back down from a new law that requires firms doing business with the city to offer domestic partner benefits. Brown's statement comes amid complaints from the city's Roman Catholic diocese and United Airlines. The church and the airline would later reach a compromise with the city.
Quotes

"Maine needs laws protecting gay and lesbian citizens from discrimination. It can't afford to see people's talents on the job wasted because of their sexual orientation. It can't afford to let people be afraid to press criminal complaints for hate crimes because they fear being exposed for who they are." -Excerpt from an editorial in the Maine Sunday Telegram

"We are all inclined to condemn most severely the particular sins of which we are not guilty. Heterosexuals who may be guilty of adultery or other crimes or sins feel quite free to condemn homosexuals because we happen not to be gay." -Former president Jimmy Carter, quoted in the Charlotte Observer

"Absolutely. If that's what society permits, who am I to be judgmental?" -Bob Eubanks, host of the new syndicated Newlywed Game, when asked if he would allow same-sex couples on the show if gay marriage was legal.

"With the Walt Disney Co. posting record third-quarter profits and record attendance at Disney World, I'll bet there will be countless companies begging the Southern Baptists to boycott them, too." -Letter to USA Today from a reader in Davenport, Iowa
Landmark New Jersey decision allows gay couples to adopt
In a landmark settlement on December 17th, a gay couple in New Jersey won the right to adopt a child on an equal basis with straight couples.

"The settlement guarantees that all couples seeking adoptions will be judged only by their ability to love and support a child," said Lenora M. Lapidus, legal director of the state chapter of the American Civil Liberties Union.

The case is considered groundbreaking because it allows both gay partners to proceed with an adoption at the same time, just like a married couple. In the past, each person in a gay or unmarried heterosexual relationship could adopt a child, but had to file separate petitions, taking more time and costing even more money.

The couple, Jon Holden and Michael Galluccio, adopted 2-year-old Adam from a foster home when he was 3-months old. The infant was born to a mother infected with the HIV virus, hepatitus C and tuberculosis. She was also addicted to cocaine and has since died. Under the care of Holden and Galluccio, the child is now perfectly healthy.

As expected, militant right wing groups, such as the Family Research Council, called the settlement a defeat for family values. "We were on a show last night with some guy from the FRC, who said this was a shame, that there are thousands of straight married people wanting children," Holden told USA Today. "The fact of the matter is, this is not true. These kids are just sitting there." According to a USA Today editorial, only 20% of eligable children are adopted each year, further fracturing the religious right's argument.

Opponents also charge that gay parents will raise their adopted children to be gay. "I've heard a number of times, 'Are we going to raise him gay?'" says Holden. "We come from heterosexual parents. All our role models were heterosexual. We turned out to be homosexual. What every child needs is two loving parents. If those two parents provide the care and concern that is necessary, it shouldn't matter whether they are of the same sex."

For now, New Jersey is the only state that allows same-sex or unmarried heterosexual couples to jointly adopt a child. Two states, New Hampshire and Florida, bar adoptions by gays and lesbians entirely.
Of interest. . .
New Hampshire gay rights law is in effect as of January 1st
As of January 1, it is now illegal in New Hampshire to discriminate on the basis of sexual orientation in the areas of employment, housing, and public accommodations (i.e. restaurants and hotels).

However, the state's Human Rights Commission says it doesn't expect many complaints—maybe a handful over the course of the law's first year. But the peace of mind it brings, particularly among the state's public school teachers and state employees, is significant.

"It's never been clear in the past whether you were safe in your teacher tenure or state employee status if you were gay or lesbian," says Marcus Hurn, a law professor at Franklin Pierce Law School. "Now they can rest easy because it's very plain in the law. A lot of worry hanging over people will lessen. I suspect that will be the biggest effect."

Governor Jeanne Shaheen signed the gay rights bill in June.
---
Sorry, no friends allowed here
A mock marriage ceremony at a Delaware school that paired second grade pupils of the same sex has drawn protests from some parents, including one family who now plans to home-school their son.

But many others supported the teacher who developed the "wedding of friends," and a school curriculum panel recommended 9-2 that the district not change the class at Star Elementary, outside Dover, Delaware.

The teacher of the class, Ede Outten, explained that the ceremony was a creative way to get students to promise to care for each other as friends. She compared the concept to the TV show Barney and Friends, where children sing, "I love you, you love me."

"Even Barney's intentions would be suspect in Dover, Delaware," says Outten.

At a public meeting, one mother said the ceremony condoned homosexuality and that she now planned to teach her son at home.
---
Welcome new members!
John B.
Tom & Judy
---
PFLAG sends its condolences to Joyce & Ebon for their recent loss. Our thoughts and prayers are with you both.

Contents by permission from PFLAG-Portland Newsletter
Online editing and format: Paula Stockholm