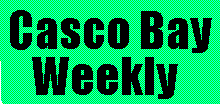 &copy 1996 Casco Bay Weekly | Rick MacPherson | February 8, 1996
---
Safety in numbers
Outright provides a supportive environment for youths dealing with issues of sexuality
"For me, coming out isn't just a one-time thing. It's a lifelong process. It never stops. And it's a very individual experience. Only you know what is appropriate for you ... what feels right. So the right time and way to come out is as individual as you are."
Listening to Steve Snow describe his experiences of growing up and eventually coming out as a gay man, it's easy to forget that he's just 20 years old. He's articulate, intuitive, seemingly happy and speaks with an authority that belies his tender two decades. He's also convinced that this wouldn't be the case had it not been for his involvement in a Portland program known as Outright.
Tracy Morrison, also 20, would agree. "I didn't know what Outright was at first. I was nervous before the first meeting, but when I got there I was relieved. We all shared something in common. It was safe and comfortable. I was so tired of trying to make it on my own. It's too hard."
That message, "You don't have to make it on your own," is at the heart of Outright's mission. Begun as a grassroots organization in 1987 by Diane Elze and a group of Portland youth, Outright sought to provide gay, lesbian, bisexual, transexual, transgendered or questioning youth under 22 years old with something they were never before offered - a safe, supportive, nonjudgmental environment where they could gather on a weekly basis to talk, socialize or simply see that other queer youth exist.
"I quickly realized the tremendous level of need that gay youth had in our community," Elze said in a phone interview from Missouri, where she is now a doctoral candidate in social work. "We had youth traveling hours to get to our meetings just to see other gay youth."
"I literally would have to be on my deathbed to miss a meeting," explained a 16-year-old member. "It's my weekly charge-up. I get reminded that I'm not the only one in this world. And I don't just go for me ... I go to reach out to others. Now some of my closest friends are from Outright."
After five years of "passion and commitment," Elze passed Outright's coordination over to a small group of advisors, among them Cathy Kidman. Kidman, a graduate student at the University of New England, has managed Outright as an unpaid volunteer. "Since returning to school, I've been lucky enough to have a wonderful partner supporting me," she said. "It wouldn't be easy otherwise."
Under Kidman's supervision, Outright - which currently serves approximately 150 youth through the support group - is moving from its loose grassroots status toward becoming a full-fledged nonprofit organization. Last September, Outright began operating under the fiscal sponsorship of the Portland West Neighborhood Planning Council. In recognition of the reason for its existence, at least one-third of the representatives on Outright's new board will be young people who are currently members. "We have a real commitment to making sure the youth make the decisions about this program," said Kidman.
While the organizational structure of Outright has become more formal, its mission and methods have essentially remained the same, attracting young people from around the state. Kidman estimates that while many Outright members come from Portland, Lewiston, Biddeford and Augusta, approximately half of Outright's members live in northern, western and Down East Maine. Some members are youths who have left rural homes to find refuge in Portland.
The two-hour meetings begin with participants gathered in a circle. Two adult advisors facilitate. The group's guidelines are read aloud: They guarantee respect of confidentiality and a nonjudgmental approach to whatever level of participation members choose. Outright's youth-written description of respect for diversity is like a pledge of allegiance for the group: "Outright is made up of people of different ages, races, gender identities, sexual orientations, classes, political affiliations, religious or spiritual beliefs, etc. We are HIV-, HIV+, HIV unsure or untested. We encourage everyone to avoid making assumptions about anyone and to respect our diversity."
For the first hour of the group session, youth go around the circle to "check in" with each other. Since meetings are open to anyone, participants have reached varying degrees of acceptance of their sexual orientation. All are encouraged to participate to a level that's comfortable for them. For some, that is silence; for others, it is the sharing of very personal experiences. After about an hour, the group breaks. The young people get a chance to socialize, eat some snacks or talk more directly with advisors. When the meeting resumes, discussion is open to issues brought up during check-in. Frequent topics involve school life, family, holidays, relationships and HIV prevention.
One 17-year-old member said, "After meetings, a lot of us get together to just hang or maybe see a movie. It's a weekly chance to meet people, too. I'd be lying if I told you we don't also go to the meetings hoping to meet someone."
An Outright member for approximately three years, and now a member of the board of advisors, Steve Snow said he was so nervous on his way to his first meeting he almost didn't make it. "I left two hours early from Biddeford," Snow said, "and got to the meeting five minutes late. I didn't talk much at first." From that tentative beginning, Steve has taken his story and message to schools throughout Maine.
Outright presents approximately 30 educational programs each year to schools and organizations in Greater Portland and beyond. Youth and adult advisors speak at assemblies about Outright and about being young, gay or questioning. "I initially started doing it to educate people," said Snow. He's found that talking to others has helped him feel more comfortable with his identity. "Now it's part of my coming-out process. I'm still educating people, but it's for me too."
As far as advice on coming out, most members respond that each person has to decide how to do it. Kidman and Snow said that they do not support coming out simply for its own sake. In many cases, backlash against an openly gay youth can complicate an already difficult life. "As far as asking youth to come out to help the movement," said Kidman, "I believe that it would be unfair to ask our young people who have no voting rights, no power individually within their schools and possibly within their families, to carry the burden of the movement - especially with so many adult members of the gay community still closeted. Our young people are not political tools."
In the coming year, Kidman hopes to expand Outright's financial resources through fundraising and grant proposals. That would allow Outright to develop a drop-in program where youth could address issues with advisors in a one-on-one format. Kidman also hopes to implement HIV-prevention discussion groups. She said she is flexible as to her role in Outright's future. "I'd be happy being hired as a staff person," Kidman said. "But if this process leads to a different kind of position requiring a different kind of person, that's okay with me."
But Kidman is not as flexible when it comes to the organization's goals. If youth and adults learn anything about Outright, it should be this, Kidman said: "Adults need to respond to the needs of gay youth not by silence but with clear, honest information. And even if a youth can't make a meeting, be encouraged that you at least know about us. Secondly, we're not enough. One gay youth group to meet the needs of all the gay youth in Portland is not enough."
Even so, evidence of Outright's effectiveness is apparent in the attitude of the youth involved. They're resilient, they're driven and they're survivors. When Steve Snow was asked if he realized how inspirational he must be to others just beginning their journey through Outright, he blushed and responded, "When other youth approach me and I hear something like that I can only think, `Hey ... I'm winging it too.'"
---
[Go to Top]