Navratilova Gay Rights
Thursday, October 12, 1995 8:43 PM
By JERRY HARKAVY
Associated Press Writer

PORTLAND, Maine (AP) -- Tennis great Martina Navratilova spoke out Thursday against an anti-gay rights measure on next month's state ballot, saying it's easier to mobilize voter opposition before the referendum than to fight the measure in the courts.

"It takes a lot more work to overturn something like that than it takes to just stop it at the start," she said.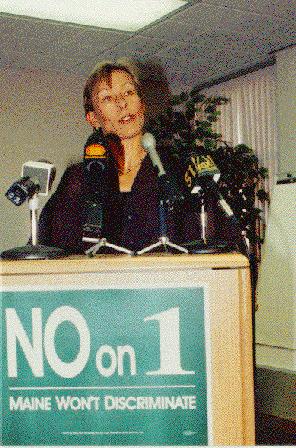 Photo courtesy CPR
Navratilova said the Maine ballot question, like one approved three years ago in her home state of Colorado, is designed to send the message that "it's OK to discriminate against gay men and lesbians."
"In this state, they are going about it in a very clever way -- by omission, by forgetting about it," she said.
Legal analysts agree that passage of the citizen initiative would repeal the city of Portland's gay rights ordinance -- the only one in the state -- and prevent other municipalities from enacting similar laws. Its effect on state laws is less clear.
Navratilova said the Colorado measure won approval because the widespread belief it would never pass led to apathy and the media gave the issue little coverage.
Countering claims by referendum supporters that gay rights were tantamount to special rights, the Czech-born tennis star said, "All we want is a fair share of this wonderful American life."
Navratilova, whose frankness about her lesbian lifestyle has cost her millions of dollars in endorsements and corporate sponsorships, said she came to Maine to raise awareness of the issues involved in the Nov. 7 referendum.
She said her celebrity has insulated her from the discrimination routinely targeted at gay people, but she knows of many others who are not as fortunate.
She said plans to devote much of her time this year promoting the new VISA Rainbow Card, a bank credit card which funnels a portion of its proceeds into gay and lesbian organizations.
Navratilova, the winner of 18 Grand Slam singles titles, will appear Friday in South Portland at a legal conference on gay-related issues, joining in a panel discussion on homophobia in sports.
She took part in a panel on sexual orientation at the University of Massachusetts on Wednesday.
Also Thursday, National Organization for Women Vice President Rosemary Dempsey spoke out against the anti-gay rights proposal at the University of Southern Maine, launching a week-long schedule of appearances at eight Maine colleges.
In Augusta, the Maine Municipal Association said the referendum plan would weaken the rights of cities and towns to pass whatever local laws they please.
"A big-government solution," said MMA executive director Christopher Lockwood. "It would limit the ability of citizens to participate in the level of government closest to home and most responsible to their needs."
The MMA is holding its annual convention in Augusta this week.
Carolyn Cosby, leader of Concerned Maine Families, accused the municipal group of "perpetrating a fraud." She questioned why the association did not oppose earlier efforts to pass a gay-rights law in the Legislature that would have similarly applied to all cities and towns if it had passed.
The MMA's argument against the referendum amounts to "a veiled attempt to try to confuse the voters and it's a lie," she said this morning in a telephone interview from her Portland home.
Although ballot Question 1 does not mention homosexuality, both sides in the debate agree that is the central issue. As drafted, the proposal would limit state and local human-rights protections to age, sex, race and seven other categories currently listed in the Maine Human Rights Act.
Top of Article