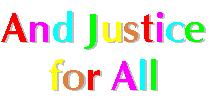 Our Mission


And Justice for All is dedicated to achieving equality for everyone without regard to sexual orientation and to raising the visibility of heterosexuals in the gay, lesbian, bisexual and transgender rights movement.
We affirm the common desire for justice and equal opportunity that is shared by all people, and we reject the assumption that one must be gay, lesbian, bisexual or transgender to commit to the fight for equality.
We believe that a society is only as equitable as the treatment accorded its most vulnerable members and that waging the struggle for justice is a shared responsibility.
And Justice for All will introduce a new spirit of inclusion by bringing heterosexuals to the front lines of the struggle for gay, lesbian, bisexual and transgender human rights.

---
Last Update: 8/11/97